As far as fans of cricket are concerned, Yuvraj Singh is not merely just a normal all-rounder but an absolute phenomenon in the purest sense of the cricket world.


Yuvraj Singh (born 12 December 1981) is an all-rounder who bats left-handed in the middle-order and bowls slow left-arm orthodox. He is the son of former Indian fast bowler and Punjabi actor Yograj Singh. This year was more special for Yuvraj's fans as he got engaged to 28-year-old British model-actress Hazel Keech in November. He is one of the main reasons for two world cups won under MS Dhoni captaincy. Who can forget his feat six sixes in one over bowled by Stuart Broad (performed only three times previously in any form of senior cricket, and never in an international match between two Test cricket teams)?
Yuvraj was conferred with the Arjuna Award in the year 2012 and awarded the Padma Shri in the year 2014. In the same year, Royal Challengers Bangalore bought Yuvraj for an all-time high price of 14 crore rupees at the IPL Auction 2014 and in 2015, Delhi Daredevils bought him for 16 crore rupees at the IPL Auction 2015 making him the most expensive player to be sold in the IPL.
Here are the 5 among many reasons to admire him 😀
1. His love towards country
Even though the spotlight was on the captain, arguably the most satisfied man on the planet would have been Yuvraj who was at the non-striker's end. Yuvraj had scored more than 350 runs and scalped 15 wickets and was named the Player of the Tournament.
He even cried like a small baby on that night for what had happened that day..,
After that world cup winning year, unfortunately he was diagnosed with a cancerous tumour. News is that he had played through lung pain along with nausea and frequent vomiting. However, giving up was never in his blood. Combating his health conditions, this man had never faltered the rising expectations on him all over the world and gave them the taste of another World Cup triumph after 28 long years of waiting.
Most of the doctors who looked after him felt that he could never play cricket again.
Even the Indian media and various legendary cricketers conceded that a comeback was highly unlikely. This was also partly due to the fact that several young players were starting to show their mettle at the international level. But, yuvraj singh refused to accept that his career is going to end. After a 2-month period of chemotherapy, Yuvraj's health gradually began to improve and successfully attaining match-fitness, he was picked for the 2012 ICC World T20 in Sri Lanka.
3. Love & Respect Towards Seniors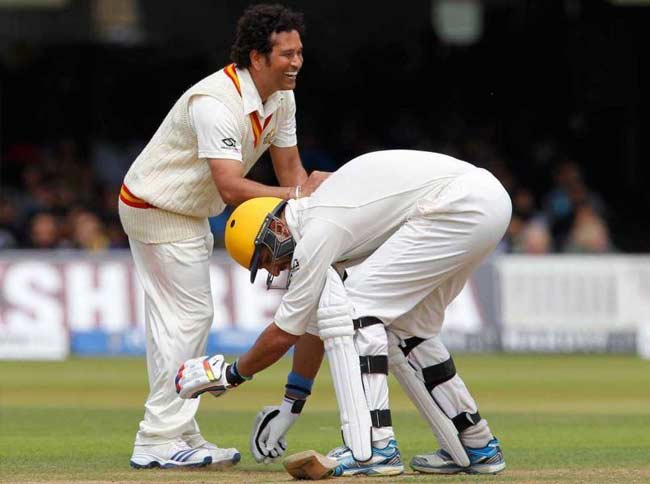 Ask any player in our Indian cricket team about yuvraj singh, you will only listen good things about him. Be it senior players like Sachin, Dada or dravid or junior players like Raina, Rohit or dhawan. He is friendly with everyone and his down to earth attitude is all what we have to learn from him . 
Year 2002 is a time where yuvraj enjoyed almost sachin's kind of stardom because of his match winning performances in Natwest Series. This win is regarded as one of India's greatest victories in ODI cricket. Immediately in the very next year i.e.., World Cup 2003 He performed par below his talent ..,
Despite the dip in form towards the end of 2004, his comeback is very strong in 2005 Indian oil triangular cup series involving hosts srilanka and west indies. He never gave up in tough situations even here or wherever.

5. His Love and respect towards his parents:
Yuvraj was born in a Punjabi family to Yograj Singh, a former India cricketer, and Shabnam Singh.
After his parents divorced, Yuvraj chose to stay with his mother. Tennis and roller skating were Yuvraj's favorite sports during his childhood and he was quite good at both. He had also won the National U-14 Roller Skating Championship. His father yograj Singh threw away the medal and told him to forget skating and concentrate on cricket. Yuvraj obeyed his father with due respect and went to training every day. He also did two short roles as child star in "Mehndi Sajda Di" and "Putt Sardara" movies on request from his father.
---
---